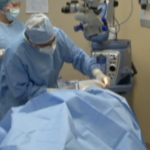 A common question after Cataract eye surgery is what can I do and not do. One thing you don't want to do after  is go straight to the gym. It is important not to strain the eyes after surgery because they are in a recovery process. Lifting weights or doing some form of strenuous activity may cause pressure in the eyes and this may lead to stress on the eyes in a time when it needs rest. More importantly the surgeon has made an incision on the cornea and although it does start healing immediately it is still sensitive and needs to not be strained.
A lot of people like jeweler from ventura or a businessman from valencia have gone back to work on the same day. But physicians, nurses and paramedical professionals need to wait a few days to avoid bugs.
Laser blade free cataract surgery does make it safer.
[contact-form][contact-field label='Name' type='name' required='1'/][contact-field label='Email' type='email' required='1'/][contact-field label='Website' type='url'/][contact-field label='Comment' type='textarea' required='1'/][/contact-form]